---
Donations for the Holiday Impact Prize are now closed
Thank you to all donors who have contributed to Nicholas Kristof's 2019 Holiday Impact Prize, which awarded an astounding ~$3,000,000 to four nonprofit organizations. Donations through this web page are now closed, but you can still support individual honorees by following the "Learn More" links below. 
---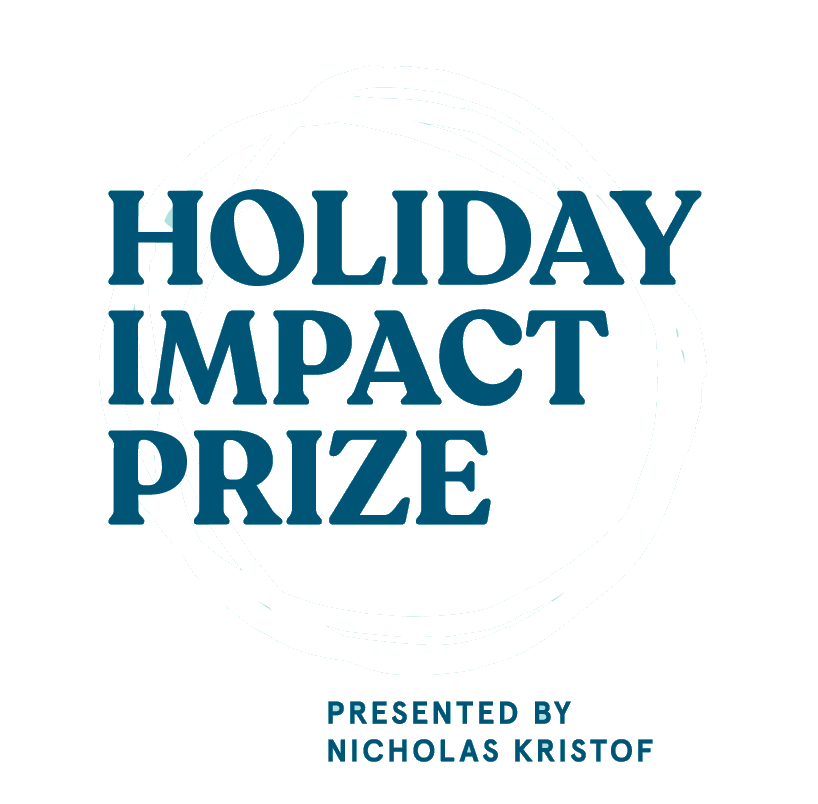 Donate by Credit Card
* Focusing Philanthropy will reimburse
all credit card fees for donations made
on this site
Support little-known organizations working to make the world a better place 
Since 2009, New York Times columnist and two-time Pulitzer Prize winner Nicholas Kristof has written an annual "holiday gift guide" column to bridge a philanthropic gap: readers who wanted to help but didn't know how, and heroic individuals and organizations who desperately needed resources but were off donors' radar. The column has helped raise the profiles of organizations that work on the very issues he covers in his journalism—health, education, human rights and women's rights, both domestically and abroad.
This year's column comes with an exciting new twist. A reader has committed $100,000 to a new Holiday Impact Prize Kristof will award to his top winner among the nonprofits he showcases each of the next ten years. And two other supporters have contributed $50,000 to be equally split among three runners-up.
The $150,000 in 2019 prize money is a call to action for others to join in supporting Kristof's appeal.  All funds raised by January 31, 2020 will be pooled so that these remarkable organizations can accomplish the impacts outlined below.
Empowering Women in Somaliland
Edna Adan is a visionary Somali midwife working to end preventable child and maternal death in Somaliland and who pioneered the fight to eradicate the practice of Female Genital Mutilation. The Edna Adan University Hospital she built with her life savings has achieved maternal and infant survival rates 75% higher than the national average by training and equipping over 1,000 midwives and other health professionals to provide pregnant Somaliland women with medical monitoring, treatment, and education.
With this award, Edna's hospital will be able to purchase a machine that produces and refills depleted oxygen tanks, saving the lives of new mothers and their babies and treating an additional 35,000 patients with asthma and cardiac disease. Prize funding, as well as additional donations, will also help establish a new laboratory to examine biopsies and PAP smears for cervical cancer. Currently, physicians at Edna's hospital must send biopsies to neighboring countries for analysis – an expensive and unpredictable process. The new lab will expedite results and provide better, faster patient care.
Making Cervical Cancer History
Maya Health Alliance (Wuqu' Kawoq in the local Maya language), is dedicated to providing comprehensive, high-quality healthcare to the rural indigenous Maya of Guatemala. The organization partners with communities to identify their unique needs, provide free integrated care in the languages they speak, and tailor services to overcome systemic barriers to healthcare. It currently provides primary care services to ~20,000 individuals annually.
The Holiday Impact Prize will advance Maya Health Alliance's important work preventing and treating cervical cancer, a leading cause of death in Guatemala. Dollars contributed will allow Maya Health Alliance to expand services to more women, guarantee follow-up treatment for abnormal screening, introduce a type of treatment that can be performed in community settings, and transition to human papilloma virus (HPV)-based screening for earlier cancer detection.
Ending Tropical Diseases
The END Fund is an important philanthropic initiative solely dedicated to ending neglected tropical diseases (NTDs), a group of parasitic and bacterial infectious diseases that affect 1.7 billion of the world's most impoverished people, including 1 billion children. Since 2012, The END Fund has made possible more than 724 million treatments for NTDs like intestinal worms, schistosomiasis, lymphatic filariasis (also known as elephantiasis), trachoma, and river blindness.
The organization will use prize contributions to focus on countries of high need in Africa, where over 40% of the global NTD burden is concentrated. Just 50 cents per person per year funds a rapid-impact package of medication to treat an individual for at least one of the five most common NTDs, making it a best buy in public health and, as a byproduct, improving children's school attendance.
Setting Children Up for a Better Future
In the U.S., about one-third of young children—and about half of children living in poverty—arrive at kindergarten without the skills they need to succeed. Reach Out and Read promotes the benefits of reading aloud, starting in infancy, as part of routine pediatric care. During well-child visits, clinicians model to parents their role as their children's first teacher, using books as a catalyst for healthy development. Participating parents read more to their children, improving language scores and early literacy for millions of disadvantaged children every year.
The Holiday Impact Prize will help Reach Out and Read make progress toward an ambitious goal: reaching five million children by 2021. It costs $30 to serve a child for a year and contribute to starting the program at new sites to serve additional children. Funding also supports critical research on the effects of early literacy promotion on the healthy development of children.
Focusing Philanthropy is a 501(c)3 nonpofit that believes donations should be made with the same level of strategic intent, information, and confidence as other investments.  The organization targets serious human challenges that individual donors can successfully address, chooses tactics that are demonstrably effective, identifies confidence-inspiring implementing partners, conducts ongoing monitoring, and assures substantive reporting.  These services are provided free to both donors and partners in an effort to scale interventions that work.  Donations are fully tax deductible, and Focusing Philanthropy covers all administrative costs and replenishes credit card transaction fees so that 100% of funds contributed go to implementing partners.